Hart Foodbank
Hart Foodbank is a community project run by volunteers at Fleet Methodist Church, one of over 100 UK Foodbanks. As part of the Trussell Trust Christian charity, we aim to demonstrate Gods' love for all in a practical and tangible way.
The foodbank is designed to provide food in a crisis and is not an ongoing source of help. Foodbank volunteers can direct the clients towards more permanent solutions through the benefit system, organise debt counselling when appropriate and perhaps personal counselling. Food is donated by individuals, church groups and food collection days at supporting supermarkets.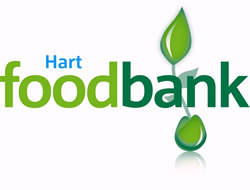 How the System Works
People in crisis can ask for a red voucher from agencies, such as Social Services, Citizen's Advice, Lions Community Store, Children's centres, GP Surgeries and this Benefice. They will assess the client's needs and give the voucher to exchange for food. The person then presents the voucher at the Foodbank where food is supplied for each family member, sufficient for 3 days. The food is non-perishable for easy storage and is nutritionally balanced. Whatever the reason for the crisis, we offer non-judgemental support, a listening ear and perhaps a prayer if that is wanted.
How it works in Hook
In essence, clients arrive at the Life Church Centre during opening hours (Monday and Thursday 1.30pm to 3pm) with a red voucher that has been issued to them by a front line care professional, which they can redeem for a parcel of food to last them for three days. We will sit down with the client and have a chat over a tea or coffee and offer them the opportunity to pray with them should they wish. The parcel of food would be suited to their needs, for example a parcel for a single person or a family with 3 or more children.
There are a variety of volunteering roles available, not just as the front of house team who sit down with clients, but also roles to manage and rotate stock, prepare the parcels and drive between the warehouse that is based in Fleet and the Life Church Centre in Hook. If you would like to learn more about volunteering with the Foodbank please contact David Gibbons at the Life Church Centre on 01256 762022 or the Church Office.
What can I do?
Please help local people in crisis by buying items from the list below and giving them to the Hook collection centre, Life Church Centre, Elms Road, Hook, RG27 9DX
Milk (UHT or powdered)
Sugar
Tea bags/Instant coffee
Fruit Juice (long life)
Cereal
Soup
Tinned meat/Tuna
Tinned Fruit/Vegetables
Instant mash potato
Rice/Pasta (dried)
Pasta Sauces (jars/tins)
Tinned sponge/rice pudding
Jam
Biscuits/Snack bars
Thank you

Registered charity number: 1127326